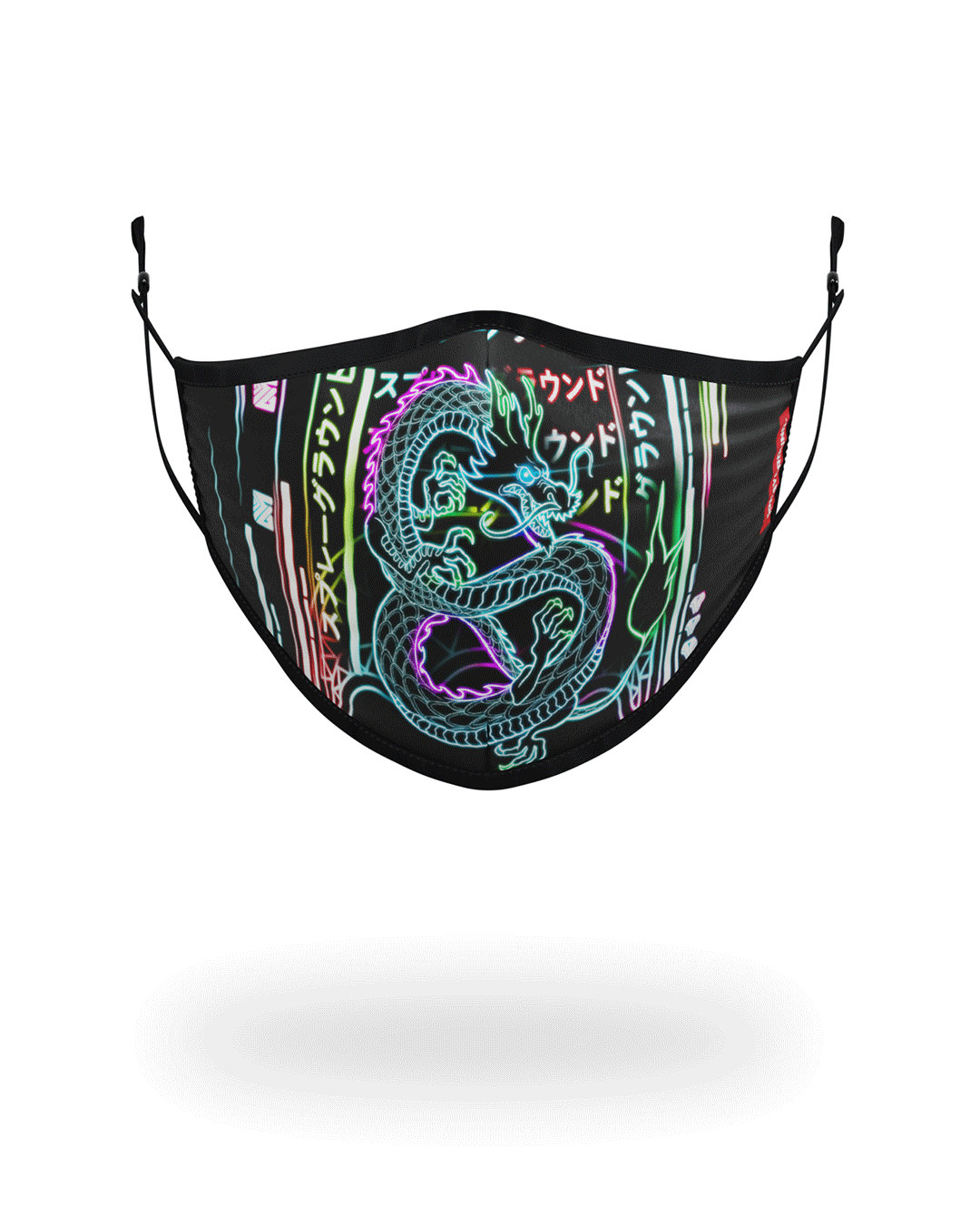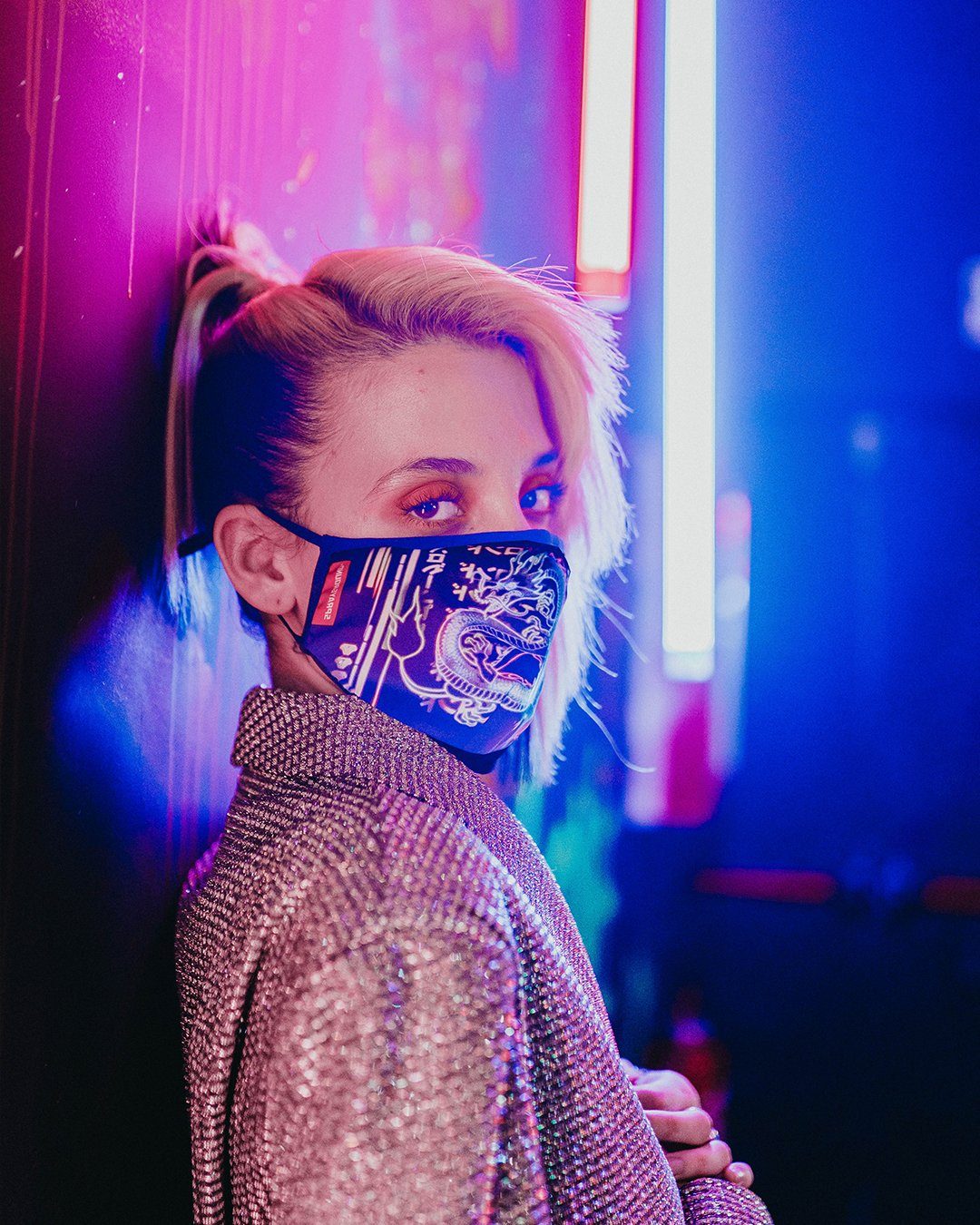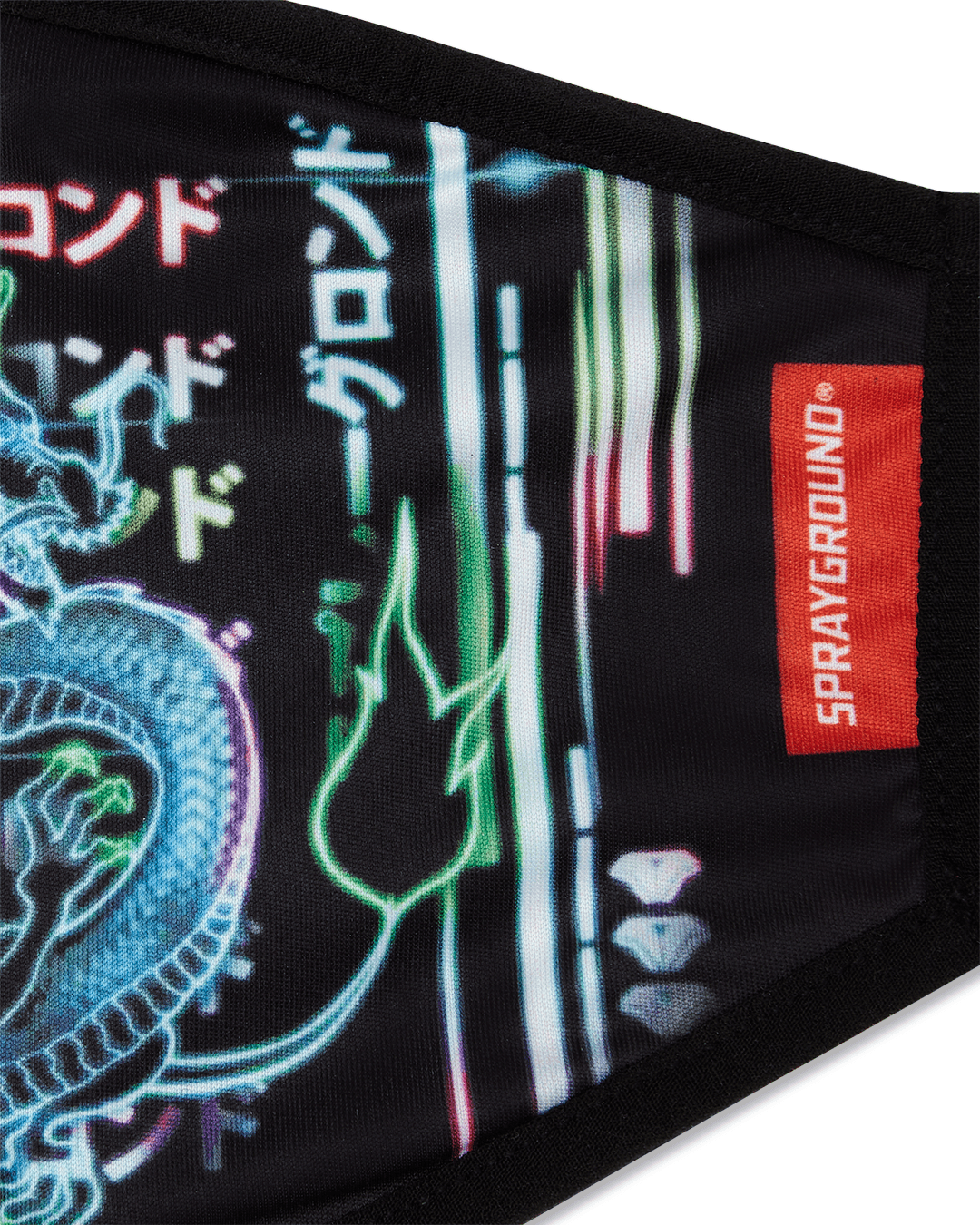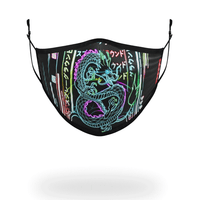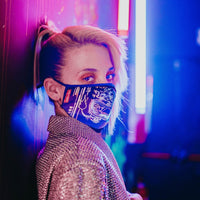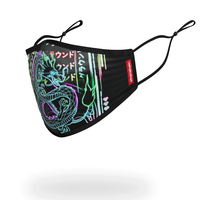 ナイトドラゴン (NITE DRAGON) FACE MASK
SPRAYGROUND 2077. The Neon Lights of Shark City Glow at Night with The New Limited Edition Crypto Stacks & Nite Dragon Backpacks, Luggage, Tote, Pouch & FaceMask. GLOWS NOW!
POLYESTER & SPANDEX FABRIC WITH 3 LAYERS OF COMPLETE FILTRATION PROTECTION.
FOUR WAY ELASTIC EAR LOOP STRAP WITH ADJUSTABLE FASTENER FOR THE PERFECT FIT
NOSE BRIDGE: BENDS FREELY TO FIT FACE SHAPE AND PREVENT GAPS.
MASKS ARE REUSABLE.
FITS YOUNG & MOST ADULTS: THE MASK-FABRIC DIMENSIONS THAT COVER THE MOUTH AREA IS 7" x 5.5".
FRONT: 86% POLYESTER 14% SPANDEX
MIDDLE: 100% POLYESTER
MOUTH: 100% COTTON
EAR STRAPS: 90% NYLON 10% SPDX

WASHING:
HAND WASH BEFORE WEARING.
MACHINE WASH WARM.
HANG DRY.
 
BEST PRACTICES:
WASH HANDS BEFORE PUTTING ON.
AVOID TOUCHING NOSE, MOUTH & EYES WHEN REMOVING MASK.
WASH MASK AFTER DAILY USE.
WEARING FACE MASKS LOWERS THE RISK OF SPREADING GERMS.
DIRECTIONS:
1. PLACE THE MASK IN FRONT OF YOUR FACE WITHOUT TOUCHING YOUR NOSE OR MOUTH
2. SECURE THE ELASTIC LOOPS OVER YOUR EARS
3. COVER MOUTH & NOSE FULLY MAKING SURE THERE ARE NO GAPS
 
THIS PRODUCT WAS MANUFACTURED, ASSEMBLED & PACKED IN A SANITARY ENVIRONMENT.
EACH ITEM IS PACKED IN A HEAT SEALED ZIPPERED POUCH.
THIS PRODUCT IS NOT MEDICAL GRADE PROTECTIVE EQUIPMENT. 
WHILE WEARING THIS FACE MASK MAY PROVIDE SOME DEGREE OF PROTECTION AGAINST THE AIRBORNE TRANSMISSION OF VIRUSES, IT IS NOT A SUBSTITUTE FOR OTHER PRECAUTIONS LIKE SOCIAL DISTANCING AND PROPER HAND WASHING. THIS PRODUCT IS NOT PROVEN OR TESTED TO PREVENT THE TRANSMISSION OF CORONAVIRUS / COVID-19.
INSPIRED BY DBD'S COLLABORATIVE WORK WITH MUSIC PRODUCER DAVID SISKO
Nite Dragon:  The Art Crime Mixtape
"Night is the permanent revolution in New York City to Tokyo.  Every sundown the streets change... becoming sinister... inspiring... or, for that matter, unexpectedly twisted.."
Inspired by DBD and our continued collaboration & friendship in sound and vision, I created a companion mixtape to celebrate the release of the mythical Sprayground bag by the very same name.  Anchored by vivid & raw narration, the mixtape takes you on an immersive & forbidden journey of the uncontrollable, inspiring and twisted The Nite Dragon – all set in the backdrop of downtown NYC.
Do you kill, train or set the Nite Dragon free?
Listen closely, think & decide for yourself.
Streaming now worldwide on all platforms = https://sl.onerpm.com/nitedragon
- David Sisko
 ----------
Credits:
Written, Produced, Recorded & Mixed by David Sisko at Lounge Studios, NYC
Nite Dragon Cover art by DBD of Sprayground
About:
David Sisko is a New York City based, multi-genre, Music Producer. He is one-half of the songwriting/recording artist Disco Pusher.  Watch his interview on Sway:   https://linktr.ee/davidsisko
*ALL SALES FINAL. ITEM CAN NOT BE RETURNED. 
THIS ITEM FALLS UNDER THE CATEGORY OF "HYGIENE" AND DUE TO HEALTH CONCERNS, THIS FACE MASK IS NOT ELIGIBLE FOR A REFUND.