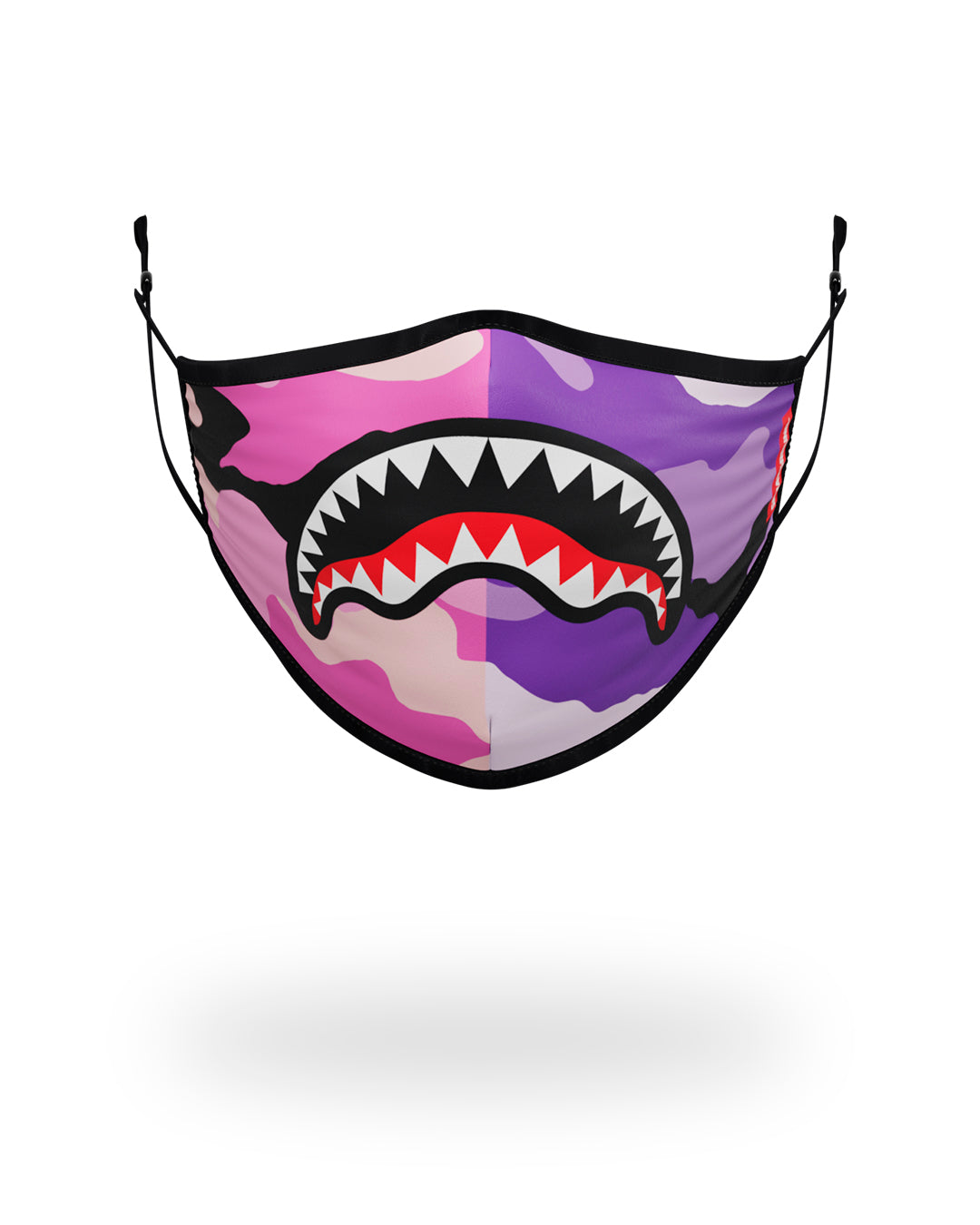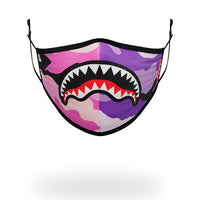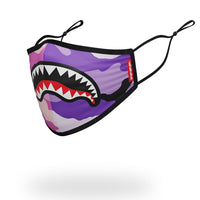 ADULT SPLIT CAMO FORM FITTING FACE MASK
LIGHT WEIGHT BREATHABLE HIGH PERFORMANCE FABRIC WITH 3 LAYERED CONSTRUCTION.
FOUR WAY ELASTIC EAR LOOP STRAP WITH ADJUSTABLE FASTENER FOR THE PERFECT FIT
NOSE BRIDGE: BENDS FREELY TO FIT FACE SHAPE AND PREVENT GAPS.
MASKS ARE REUSABLE.
FITS YOUNG & MOST ADULTS: THE MASK-FABRIC DIMENSIONS THAT COVER THE MOUTH AREA IS 6.5" x 5".
TOP LAYER: 100% POLYESTER
MIDDLE LAYER 100% POLYESTER
BOTTOM LINING: 100% COTTON
EAR STRAPS: 90% NYLON 10% SPDX

WASHING:
HAND WASH BEFORE WEARING.
MACHINE WASH WARM.
HANG DRY.
 
BEST PRACTICES:
WASH HANDS BEFORE PUTTING ON.
AVOID TOUCHING NOSE, MOUTH & EYES WHEN REMOVING MASK.
WASH MASK AFTER DAILY USE.
WEARING FACE MASKS LOWERS THE RISK OF SPREADING GERMS.
DIRECTIONS:
1. PLACE THE MASK IN FRONT OF YOUR FACE WITHOUT TOUCHING YOUR NOSE OR MOUTH
2. SECURE THE ELASTIC LOOPS OVER YOUR EARS
3. COVER MOUTH & NOSE FULLY MAKING SURE THERE ARE NO GAPS
 
THIS PRODUCT WAS MANUFACTURED, ASSEMBLED & PACKED IN A SANITARY ENVIRONMENT.
EACH ITEM IS PACKED IN A HEAT SEALED ZIPPERED POUCH.
THIS PRODUCT IS NOT MEDICAL GRADE PROTECTIVE EQUIPMENT. 
WHILE WEARING THIS FACE MASK MAY PROVIDE SOME DEGREE OF PROTECTION AGAINST THE AIRBORNE TRANSMISSION OF VIRUSES, IT IS NOT A SUBSTITUTE FOR OTHER PRECAUTIONS LIKE SOCIAL DISTANCING AND PROPER HAND WASHING. THIS PRODUCT IS NOT PROVEN OR TESTED TO PREVENT THE TRANSMISSION OF CORONAVIRUS / COVID-19.
 
*ALL SALES FINAL. ITEM CAN NOT BE RETURNED. 
THIS ITEM FALLS UNDER THE CATEGORY OF "HYGIENE" AND DUE TO HEALTH CONCERNS, THIS FACE MASK IS NOT ELIGIBLE FOR A REFUND.